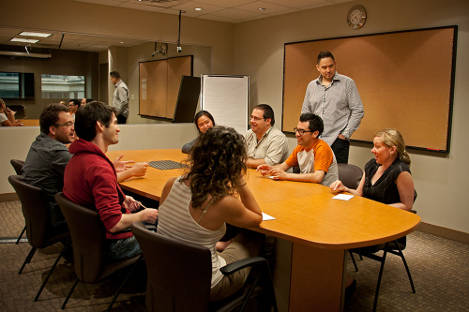 A focus group last between 1 and 2 hours, and brings together between 6 and 10 people in order to share opinions about various subjects, products, or services. This is a great opportunity to express your personal points of view and help shape the world around you. In appreciation of your time, you will receive a cash honorarium ranging between $50.00 and $150.00 for your participation.
Once you become an MBAweb panel member, we will contact you via email or telephone to notify you of the date, time, and topic of the study, as well as the amount of money you will receive if you qualify and participate in the focus group.
Since subjects vary greatly, in order to qualify, we will first ask you a few questions to determine whether you correspond to the desired profile needed for each research project.
In appreciation of your time, even if you do not meet all the selection criteria for a specific focus group, you will receive an additional entry in our next quarterly draw!
Please note that when you take part in a focus group, you must present a valid piece of ID with photo for identification purposes. Once on site, we will also ask you a few additional eligibility questions, just to make sure that you exactly match the desired profile.
Groups are subject to audio and video recording, however these recordings are used only to produce the research report, and not for advertising, or commercial purposes.
Focus groups are fun, important, and truly do make a difference! At MBAweb, we always look forward to what you have to say!